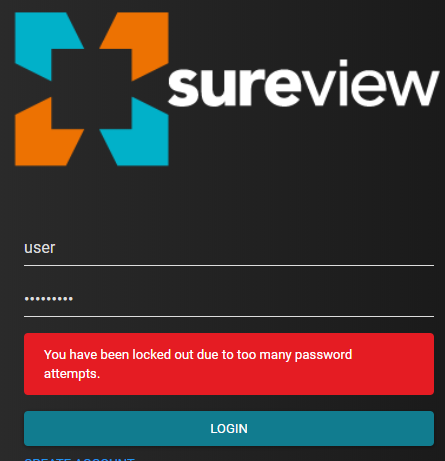 Alternative Messages
Currently locked out. Please contact system administrator
Max Login attempts exceeded, you have been locked out.


This means that the user has gotten their password wrong too many times (6 attempts by default). Their account will now be locked out for 30 minutes (by default)
If you (or the user) can't wait that long, then your SureView Administrator (who has "system administrator" permissions) will need to login to the SureView Setup Interface:
Go to the Setup Tab
Go to the Edit Users Link
Find the user that has been locked out
Scroll down to the bottom of user details page
Click "Remove Lockout"

Customisation
Login Security Settings can be configured by the SureView Administrator by logging in to the SureView Setup Interface and:
Go to the System Tab
Go to System Settings
Expand the "Security" Section