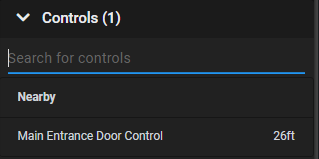 Required Feature Flag: Alarms / MediaMatrix / RelayControl
This section is used to initiate momentary unlocks against doors from within the media matrix screen.
The control list will automatically show any "near by" doors but if for any reason location information isn't available (e.g. a door has not yet been plotted on the map) you can use the "Search for controls" box to find a particular door control by name.
When clicking on a Door to control you will be given the following control box so you can make any notes for the reason for the door unlock