The map on the response screen gives context to the location of the alarms and other nearby assets (cameras, alarms, doors etc).

Spotlight
The spotlight (blue circle) is set by default to a radius of 30 meters, centred on the location of the first alarm in the event. Cameras & Doors within the spotlight are displayed in the Media Matrix Camera & Door "Near By" menus.
The near by menu in media matrix will let you quickly see useful cameras and populate them into media matrix as required.
Devices within the spotlight are highlighted, anything that falls outside will be greyed out. This is to make it clear what cameras are likely to be important to the active event.
If the alarm did not have an exact location, then the spotlight will centre on the Area Location (first by using the Floorplan as a reference, if there is no floorplan it will center on the Area Address)
Optional Feature: Alarms>SiteMonitor>Map>SpotlightScaling
If The SpotlightScaling feature is enabled then operators will be able to resize the spotlight circle. This can be used to increase or decrease the number of devices that are shown in the "near by" menu
Camera Control
Clicking on any of the Camera pins in the map will allow you to start the Camera in Media Matrix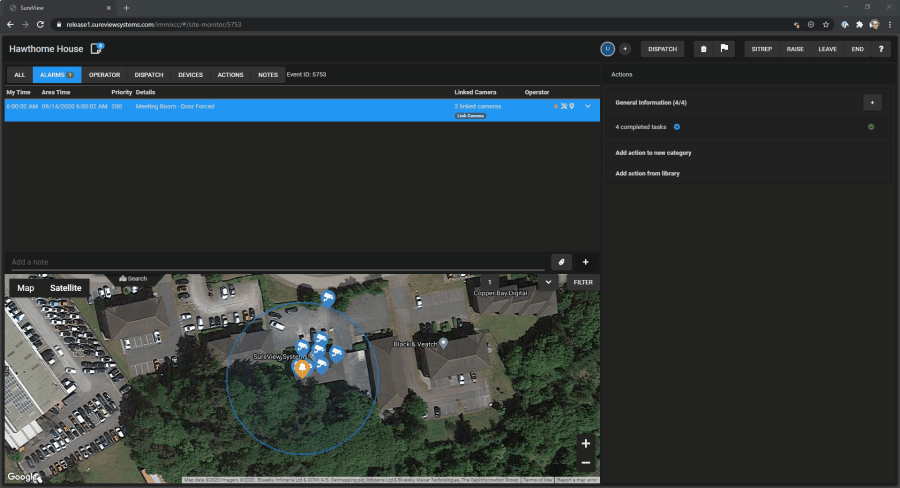 Additional Map Features
Map View / Satellite View
In the top left corner, you can change the map between map view and satellite view.


Floors / Levels

The Top Right has the floor control The number shows which floor you are currently on. Click it to select different floors. The arrows let you quickly go up or down a floor


Filters

The Filter button lets you show or hide different types of assets on the map. Clicking it shows a full list of all asset types; you can click each type to show or hide it.