When handling an alarm, you may want to invite additional people to assist or take over.
On the top bar of the response screen, you will see circles with each person currently added to this event

The circle shows that person's colour and initials - this same circle is shown on the audit and actions for that person. The white highlight shows who has control of the event - this person can choose what is shown in the media matrix, add additional people to the event, and end the event.
If a circle is shown faded, it means that person does not have the event currently open.
Click the

to manage the event sharing.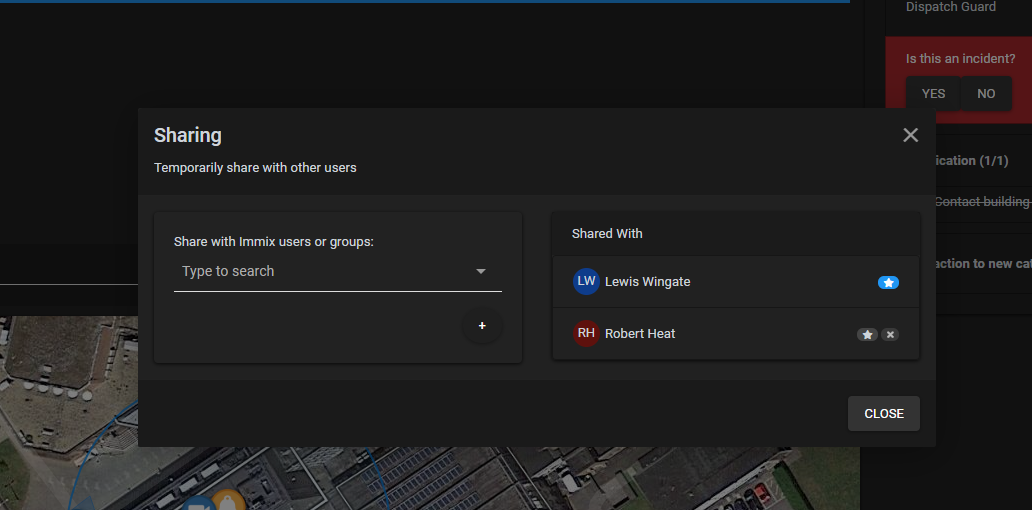 On the right, you can see the list of who is currently added to the event. The person who has control of the event has a blue star icon - if that is you, then you can pass control to someone else by clicking the grey star by their name. You can also remove people by clicking the X; this will remove them from the event, and if they have it open, they will be notified and sent back to the alarm queue. When you do this, they remain in this list as removed, so you can still see what they did while in the event.
On the left, you can add new people into the event. You can type to find someone by name, and you can add more than one person at once. As well as individual people, you can also add entire routing groups - this will allow someone part of that group to join the event without you needing to know exactly who you're inviting. As you add people on the left, they will show in the search section. Click the

when you're ready to add them to the event.
If you have been invited to an event you will get a pop up to join the event, once you have clicked join you will be moved into the event screen.